Main Characteristics
KapJin is a veteran of a field of secondary cell battery charger and discharger.
We have been researching/developing/providing various charger and discharger to global client companies involved marketing leading client companies (S company) for 15 years.
We have capability that is whole Formation around from designing to test driving .
Based on affluent solutions and experiences about amount /Application/Channel/Size/Operating System and et cetera , we can provide customized solution which is able to correspond any requirements of clients.
Main Specification

Classification
Main order
Specification
Channel
5V130A 48CH
Charge and Discharge Channel Department
Voltage
Monitor
Range
-5,000 V ~ 5,000 V
Control & Monitor
Charge
0.000 V ~ 5,000 V
Discharge
2.000 V ~ 5,000 V
Control Resolution
1mV
Monitoring Resolution
0.5mV
Accuracy
FS ± 0.1%
Current
Monitor
Range
0.000A ~ 65.000A
Control & Monitor
Resolution
65A : 20mA
Accuracy
FS ± 0.2%
Charge and Discharge Equipment
Operating Specification

Charge
Cutoff Control
Voltage, Current, Time
Setting Mode
CC / CV
Discharge
Cutoff Control
Voltage, Current, Time
Setting Mode
CC / CV
Step
Each process Step
100 EA
The number of process
The number of capable of setting
100,000 EA
Monitor
Display Interval
1 sec
Graph Data
Sampling Time
(When reviewing Local, apply 100msec )
(Apply MES(Auto) : 10sec)

PC Communication
TCP / IP (LAN)
Auto Cal' Equipment application
Install DMM(34401A) inside of the TRAY Cal equipment
(Install Relay way & measuring instruments after a period of government certificate calibration)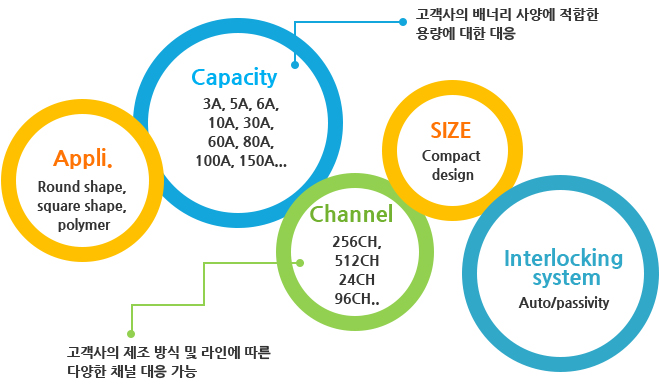 Kapjin Inc . 29, Omokcheon-ro 152beon-gil, Gwonseon-gu, Suwon-si, Gyeonggi-do, Korea     Tel : +82-31-227-5530     Fax : +82-70-7577-7009     E-mail : info@kapjin.co.kr
Copyright © 2016 Kapjin CO., LTD. All rights reserved.